Hi guys, I wanted to share with you all my write up on my most useful Mac Applications.
There are a number of aspects that attract consumers to Mac: it's functionality, aesthetic values and its history of competent customer service. OS X is particularly easy to use for a variety of customers ranging from students to small and large businesses alike. Until the introduction of v10.6, Snow Leopard, there was only a small community OS X developers due to the difficulty of attracting the average customer to their product as a result of the combination of a lack of accessibility and the simplicity of the Apple-developed system applications. With the introduction of the Mac App Store in 2010, many hoped for the same success that was seen in previous years with the iOS App Store: developers creating brilliant products that Apple could never had accomplished alone.
In this post, I want to post my useful applications and a little bit about them.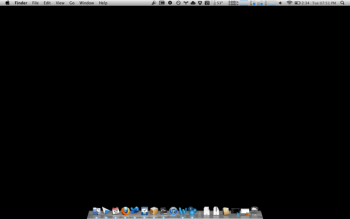 Starting from left to right in the task bar,
1.
Sparrow
(
$9.99
): the quintessential Mail application- email isn't email on Mac without Sparrow. It's minimalist feel with supreme functionality sets it apart from all of the competitors. The Sparrow team is
universally
acclaimed
all over the web, too. The only real competition here is the
original Mail.app
and maybe
Postbox
or
Thunderbird
.
2.
iCal
(
free
): Besides the
weird skeuomorphic' design
, iCal handles everything I need well. I use iCal subscriptions to
keep up on football fixtures
and the repeat function for classes and other events. All of this syncs to my iPhone through iCloud (used to use MobileMe). A key addition to iCal is
Fantastical
, a menubar applet that elegantly displays your calendar and future events.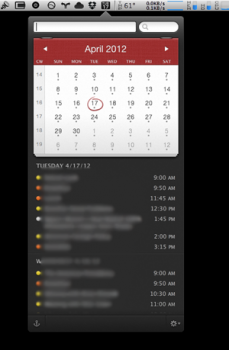 3.
Mozilla Firefox
(
free
): you should be using this or
Google Chrome
to browse the web. The reason I (mostly) use Firefox over Chrome is add-ons- without these add ons, Firefox would not be nearly as valuable.
-
Lastpass
: my most important add on– I use this to store all of my random 15-30 character passwords to every website I use– all secure through 1 master password. If any website is compromised, none of my other passwords are at risk. It has an auto login and auto form completion features (for shopping and site registration) and is generally hassle-free once you've completed the move.
-
Adblock Plus
: blocks annoying ads on many sites, even Facebook and Google
-
Greasemonkey
&
AutoPagerize
: Greasemonkey allows you to write custom scripts and AutoPagerize is a useful script that allows you to continuously scroll pages with multiple pages (such as Google search results)
-
HTTPS Finder
: detects and forces HTTS (secure browsing) whenever possible
-
HTTPS-Everywhere
: recognizes HTTPs on hundreds of major sites and forces it
-
Skipscreen
: skips/automates the annoying time-waiting function on download sites
-
Tab Mix Plus
: enhances features to tab bar- I set functionality to multiple bars of tabs instead of scrolling (I use a lot of tabs)
-
BetterPrivacy
: allows you to automatically remove "LSO cookies"
-
Feedly
: custom homepage with Facebook, Twitter, and Google Reader integration
-
Firebug
: web development tool for instant html/css modification
-
Web Developer Toolbar
: additional web development tools
4.
Twitterific
(
4.99
): my favorite Twitter application. I've tried both the Twitter App and Osfoora, but have always come back to Twitterific. It's smooth appearance, functionality and advanced services preferences are superior to the competition. The only downside is it is unable to load 2hr+ tweets automatically but that might be a limit of the Twitter API. Otherwise, with its Growl functionality and multiple account support, the app has me constantly coming back.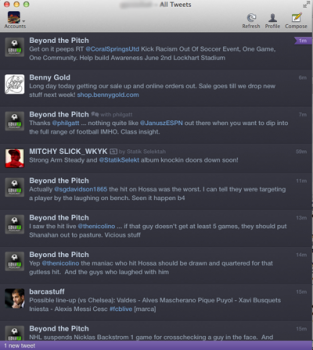 4.
Things for Mac
(
49.99
): a amazing and beautifully made task manager that has brilliant synchronization with all iOS devices. It is both neither too simple nor too advanced, however its steep price may set off many set off many potential users. Those looking to spend less might be better off with
Wunderlist
while others looked for more may look towards the
GTD-driven
OmniFocus
. Key feats for me: separation of areas, projects, and tasks and advanced synchronization with all things iOS.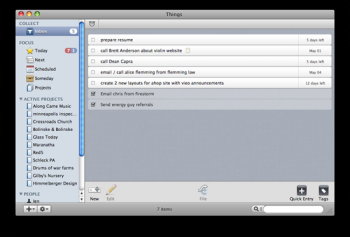 5.
Reeder
(
9.99
): I'm a big fan of RSS feeds, which seem to be dying out day by day. Reeder is trying to keep that alive and has developed a Mac (
and iOS
) App that manages to make RSS readable again. No real other alternative here– if you haven't thought about using RSS, I'd highly recommend it, you can find feeds for your favorite sites by looking for
this logo
.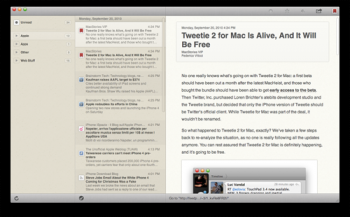 6.
Read Later
(
$2.99
): while reading these RSS feeds and various publications, you often run across something that is too long or that you want to save for later. Along comes
Instapaper
, which saves
the text
of your favorite articles to read later. Read Later is a nicely made application that allows you to easily see what you've saved through Instapaper.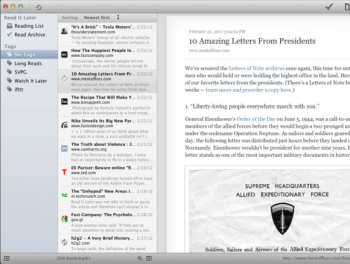 7.
iTunes
: the really only music manager that has full functionality and capabilities on OS X. If you can live without podcasts, genius playlists and home sharing, I suggest checking out
Enqueue
.
8.
iA Writer
&
Microsoft Word
: iA Writer is basically a minimalist and bare bones writing application that allows you to focus on the text and nothing else. It is highly rated by a range of publications and developers for its ease of use and innovation in the Mac App Store. Word, on the other hand, is the bloated baby of Microsoft that you can't really live without depending on your profession.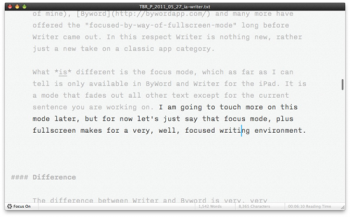 9.
Textual
: the quintessential IRC client. Can maybe be replaced by
IRC Cloud
and if you hate aesthetics,
Colloquy
.
Now, the apps that hide in my menu bar:
-
Alfred
(
free
): you
need
to use this on a Mac. I can't stress it enough– after a few hours/days/weeks with Alfred it is impossible to use a Mac without it. This ultimate productivity app turns simple keystrokes into powerful searches into your computer or the web. If you like it, buy the
power pack
to get increased functionalities.
-
iStat Menus
(
$16
): adds menu bar applets for CPU, HD, Memory, Battery, Clock and more
-
Dropbox
(
free
): its its simplest form, it is a cloud-syncing service: save a file on your laptop, open it on your desktop or mobile device instantly. There are a variety of other ways to use this and I personally use it to for school documents and to back up my archives, documents, and photos.
-
Cloud
(
free
): simple file sharing
-
Flux
(
free
): this adjusts the color of your display at sunset to help your eyes– I know some who like it and some who hate it– give it a try and decide for yourself, I use it.
-
Tracks
(
$2.99
): adds Growl integration for iTunes and menubar music search
-
Divvy
(
$13.99
): helps manage windows more efficiently And a number of more important apps…
-
Deliver
(
free
): easily share content between iOS and OS X (I use this for passwords between Lastpass and iOS)
-
TotalFinder
(
$18
): Finder replacement that allows for dual-pane and other accessibility options
-
Transmit
(
$33.99
): the best FTP application for Mac, hands down
-
BetterZip
(
$19.99
): powerful archive manager
-
Coda
(
$99.99
): the web development app; one window coding
-
coconutBattery
(
free
): battery health monitor
-
DaisyDisk
(
$9.99
): beautifully analyze disk usage and see whats taking up your space
-
CleanMyMac
(
$15
): easy to maintenance solution
-
Movist
(
$4.99
): the movie player I use; free alternative is
VLC
-
TextExpander
(
$34.95
): expands text based on certain keystrones, extremely useful for coding or any repetitive actions (such as email replies)
-
TextMate
(
$53
): powerful general use text editor
Other influential applications
-
Adobe Photoshop
(
$300-$1000
): the quintessential photo software, no other way to put it; there are plenty other free options such as
GIMP
,
Pixelmator
, Seashore and even web-based alternatives such as
Pixlr
-
Airfoil Speakers
(
$25
): allows your Mac to receive AirPlay audio
-
AirParrot
(
$10
): uses AirPlay to put your Mac screen on the AppleTV
-
MarsEdit
(
$39.95
): blog editing tool I use to post here!
-
Billings
(
$39.99
): client-management application I use in my web development endeavors
-
Boom
(
$6.99
): volume booster for Mac
-
Day One
(
$9.99
): journaling app
-
Jumpcut
(
free
): saves your clipboard
-
MainMenu Pro
(
$19
): general maintenance app
-
UnPlugged
(
free
): Growl notifier for when your Macbook is plugged or unplugged
And that about wraps it up. As you can see, there are a lot of improvements to be made to the out-of-the-box Mac.
I hope you enjoyed my write up, suggestions, comments and the like are appreciated!