Trailer: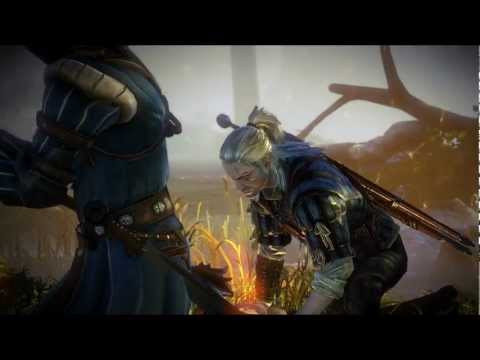 Description:

The Witcher 2: Assassins of Kings is an action role-playing hack and slash video game developed by Polish studio CD Projekt RED for Microsoft Windows, Xbox 360, OS X and Linux. It is a sequel to the 2007 video game The Witcher, and was released internationally on 17 May 2011 for Microsoft Windows, and on 17 April 2012 for Xbox 360. Like its predecessor, the game is based on The Witcher series of fantasy novels by Polish author Andrzej Sapkowski. The game has been a critical and commercial success selling more than 1.7 million units for the PC and Xbox 360 as of May 2012.
Plot:


The player is Geralt of Rivia, a professional monster slayer, a witcher. Entangled in the political turmoil that engulfed Temeria, Geralt helped quell the rebellion of the Order of the Flaming Rose. Soon after, he saved King Foltestís life when the monarch was attacked by a witcher-like assassin. He continues to protect the king, serving as his bodyguard as Foltest strives to bring peace to his kingdom. The Orderís last bastions have yielded to the royal army, yet one more task remains - the Baroness La Valette announced her secession from the realm, and her fortress must be taken. A month after the attempted assassination, Foltestís armies stand at the gates of La Valette Castle, preparing for a final assault. Still at Foltestís side, Geralt is among them, unable to begin his personal quest to discover the mysterious assassinís origin and identity.

---------------------------------------------------------------------------------------------
As it happens I have one free copy on GOG.com available to give away. The copy contains the enhanced edition of the game and a massive amount of bonus goodies ranging from maps and manuals to making of videos and comic books. This is truly the most definitive version of the game you can get online, and it's DRM-free.
Personally, I consider it to be one of the finest video games ever made and playing through it was definitely one the highlights of my gaming "career". The game's storyline is deep and mature, which forces you to make incredibly difficult decisions that question your own moral values. You'll encounter creatures of great power, characters that are nearly as good as the ones in Game of Thrones, and visit locations that are absolutely breathtaking.
With that being said I really don't want to give this game to someone who just looks to add it to his collection and never touch it. I want to give it to a person who loves rpg's or quality games in general, and is really looking forward to play it. A really big plus is if the person has played the first game and hasn't managed to touch the second game just yet, or hasn't played this wonderful series at all.
So if you're interested in applying, please write a (sincere!) reason why I should give this game to you. All I ask in return is an iGiver.